Inside access to a 93-point rarity from the "best vintage ever"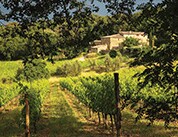 Founded in 1888, Cantine Luciani (inset) lies just 100 meters away from Biondi-Santi, the first and most fabled Brunello of all, which costs $200 a bottle or more. Because top critics have only recently discovered Luciani, it's still hugely undervalued. And WSJwine fans enjoy direct access to the family's cellar.
Luckily for you, we just secured all 500 cases of their critically acclaimed release from 2015, which may go down as Brunello's best vintage yet (see quotes below right). No wonder the critics are swooning…
"Intense and complex, as masses of ripe cherry push up from the glass, backed by grounding notes of dried florals, cedar, leather, dusty earth, smoky minerals...The finish is long, with a staining of red...This is a new producer to me, and one that is worth keeping an eye on."
— 93 points, Eric Guido for Vinous
While it might be a new find for Eric, our man on the ground, Leo, has been close with the Lucianis for years. And, in addition to the 93-point rating above, the 2015 also has an impressive score in the International Wine Report (92 points for this "wonderful wine"), 91 points from top critic James Suckling and 90 Wine Enthusiast points.
The Lucianis farm a minuscule 8.5 acres in Brunello, compared to the over 100 acres overseen by Biondi-Santi. The family harvests the fruit by hand, and in the cellar, Massimo Bracalente—who also crafts 98-point Brunellos for legendary Altesino—ages the wine for 36 months in traditional, large botti and French barriques.
This is an incredible opportunity to secure benchmark Brunello from the highly sought-after 2015 vintage for a fraction of what you'd pay for its famous neighbor—and secure the keys to the cantine.
Secure One of Only 500 Cases
Reserve six bottles today for $45, and we'll charge you the balance of $224.97 when the wine arrives in November, saving you 25% on the official release price.
You'll also become Cantine Keyholder…
When you reserve a case today, you'll become part of the estate's insider circle, and we'll enroll you to automatically receive an allocation of the next vintage of Cantine Luciani's Brunello di Montalcino in the summer of each year—always at the best price, and always with no obligation.
Keyholders also enjoy special perks (see above right). You can cancel your membership any time, but once you taste the wine, we doubt you'll want to.
Act by October 19—or much sooner to avoid missing out.