Our Finest Wine Recommendations
With the Premier Club, you will always have a collection of impressive wines on—hand—each painstakingly selected by our wine experts from exciting estates in Bordeaux, Napa, Tuscany and beyond. Each case of wine is carefully packed with exceptional, limited—release specials and reserved for you every three months. To help you get the most from every bottle, we include serving advice and food—matching tips. Here's what you can look forward to:
12 luxurious wines reserved for you every 3 months
A members—only 20% savings on all Premier Club cases
Online preview of each case—change the mix, skip cases, alter delivery timing
No obligations—you're free to cancel anytime
Detailed tasting notes and serving advice with every wine
100% money—back guarantee — if ever a wine fails to delight, you'll be refunded in full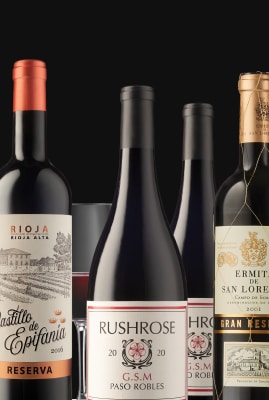 Get special access to our highest recommendations and some of the world's most sought-after wine styles. Each 12-bottle Premier Club case is priced at $259.99 (saving you at least 20%). And, as with the Discovery Club, we make it easy for you to tell us what you like, so every selection is right for you.
Enjoy a BONUS trio of 93-point Châteauneuf + FREE shipping
This fantastic introductory offer brings you 12 of the most luxurious reds in our cellars and $214 in savings. Act today, and we'll include three BONUS bottles of 93-point Châteauneuf (worth $149.97) and free shipping.
Join NOW
TERMS & CONDITIONS: Offer subject to approval and availability and limited to one case per household. In the unlikely event of a wine becoming unavailable, a substitute of similar style and of equal or greater value will be supplied. Every three months, we will reserve you a 12—bottle WSJwine Club selection. There is no commitment and you may cancel at any time. Once eligible, each year you will be offered two extra—special holiday shipments, one in summer, one in winter. You will be notified in advance of these extra cases and their special—offer price. Licensed retailers only accept orders from adults at least 21 years old. All orders will be processed and fulfilled by licensed entities in the industry and applicable taxes are paid. Licensed retailers have the right to refuse orders should an advertisement not comply with your state laws. Delivery is available to AZ, CA (offer may vary), CO, CT, DC, FL, GA, IA, ID, IL, IN (limited delivery area), KS, LA, MA, MD, ME, MI, MN, MO, MT, NC, ND, NE, NH, NJ (offer may vary), NM, NV, NY, OH, OR (not eligible for free gift), PA, SC, SD, TN, TX (voucher not required), VA, VT, WA, WI, WV and WY. Void where prohibited by law.